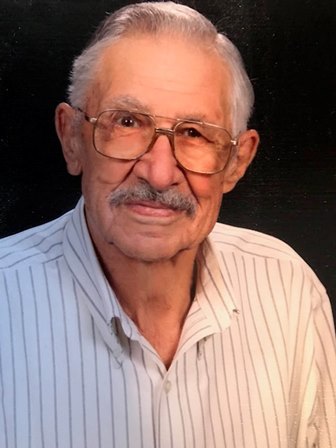 03/21/1927 - 12/11/2017
Troy William Lowe, 90, of Hayesville, NC passed away Monday, December 11, 2017. Born in Clay County, NC he was the son of the late Baxter C. and Eva Jane Burrell Lowe.

Mr. Lowe was a salesman for Boice Supply Company and H. T. Hackney Company. He was a U. S. Army Veteran of WWII and he was a member of Clay Lodge 301 AF and AM. He was a very active member of Meadow Grove Baptist Church where he served on the building committee, the cemetery committee, the finance committee, the budget committee, the grounds committee, and he was a land trustee for the church.

Survivors include his wife, Gay Hicks Lowe; his daughter, Charlotte L. Grant (Guy) of Hayesville; his son, Jerry E. Lowe (Diane) of Hayesville; daughter?in?law, Darlene Lowe; special friend, Darlene Dockery; eight grandchildren, Jeanne' Padgett (Jeff), Michael Lowe (Christy), Kim Moss, Matthew Lowe (Mandy), Daphne Davis (Tim), Amanda Rogers (Jeff), Darren Lowe (Bethany) and Josh Lowe and 13 great?grandchildren.

In addition to his parents, he was preceded in death by a son, Donald Lowe who died September 16, 2004; four sisters, Monda Denton, Dorothy Garrett, Blanche Garrett and Blonde McClure and a brother, Charles Lowe.

A funeral service will be held Friday, December 15, 2017 at 6:00 pm at Meadow Grove Baptist Church with Rev. Israel Rogers and Rev. Jimmy Rogers officiating. Masonic Rites will be conducted. The family will receive friends Friday from 4:00 ? 6:00 pm prior to the service at the church.

A military graveside service will be held Saturday, December 16, 2017 at 11:00 am at Meadow Grove Baptist Church Cemetery. Pallbearers will be Michael Lowe, Matthew Lowe, Drake Long, Peyton Long, Darren Lowe and Tim Davis.

In lieu of flowers memorial donations may be made to Meadow Grove Baptist Church Cemetery Fund, 19 Meadow Grove Lane, Hayesville, NC 28904.

Online condolences may be made at bryantgrantfuneralhome.com. Bryant?Grant Funeral Home and Crematory is serving the Lowe family.