CREMATION WITH A TRADITIONAL FUNERAL 
This includes a visitation that can be held, with the deceased viewed in a casket, and concludes with a traditional funeral service, followed by the cremation. This can give friends and family an opportunity to view the deceased which may help them with their grieving process. This service can also be personalized with photographs and other items of your loved one on display. Like traditional burials these services can be performed on seperate days or on the same day.
CREMATION WITH A MEMORIAL SERVICE 
With this service the cremation takes place prior to a memorial service. The memorial service can be held at a church, synagogue, funeral home or any place the family desires. This service can be at any time that the family desires.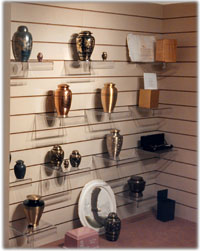 WHAT DO I DO WITH THE ASHES? 
The cremated remains of the deceased can be given to the surviving family members for them to scatter, keep, or a combination of both. Families may decide to bury the cremated remains at sea or in a cemetery. Some families choose to keep the ashes of their loved one in an urn.