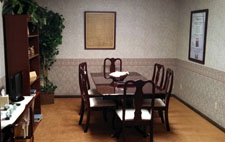 Affordable Prearrangements
Our Pre-Planning counselors will work with you to setup and arrange the best possible services that you will find financially comfortable.
Inflation Protection

By purchasing your funeral in advance you will be able to set the cost of your funeral based on today's prices. With the cost of a Funeral rising yearly, this is a real benefit to your loved ones as well as great financial planning.
Peace of mind
Sparing your loved ones the stress, anxiety, worry, and expense of planning your funeral is a big advantage of Pre-Planning. By meeting with one of our Pre-Planning counselors you will have the opportunity to learn about different options and costs associated with a funeral; including (but not limited to) casket selection, transportation, clergy, flowers, and the use of the Townson-Rose Funeral Home facilities. We offer the most trusted prearrangement program in the area.
A living decision
Similar to a living will, your prearranged funeral clarifies your wishes ahead of time. Upon completion, your loved ones will have lasting documentation of your preferences when the need should arise.
Would you like to know more about Pre-Planning?
Please fill out our online survey and we will promptly contact you concerning your prearrangement.