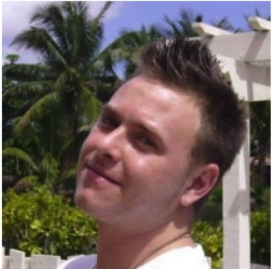 08/14/1988 - 11/06/2021
Vance A. Violino, 33, of Plantation, Fla., rose to find peaceful eternity with God on Nov. 6, 2021. He was born Aug. 14, 1988 in Plantation, the only child of Bobby and Kim Violino. He attended Catholic elementary school in Plantation and followed in the family tradition of attending St. Thomas Aquinas High School in Ft. Lauderdale. He enjoyed many sports during his youth especially roller and ice hockey. As an adult, Vance said he always found true peace on the golf course and pursued that love of the game while attending the Golf Academy of America in Apopka, Fla.

Vance had a thirst for life. He touched many lives and was always the first to step up and help his friends in any way he could. Vance had many gifts. He loved to cook and enjoyed cooking for his family and friends. Vance grew up with English bulldogs and his love for bulldogs was the center in his life. He was a true friend, loving son, devoted nephew and a gentle soul. He saw the beauty in life in kind words, his beautiful artwork and deep imagination. Vance left beautiful footprints on this world and will be greatly missed but his legacy for the love of life will live on through all of us.

Vance is now reunited on the first tee in heaven with his beloved grandfather, who he lovingly called "Grumps," Dr. Robert F. Eastman, Jr. and his other beloved grandfather "Papa," Robert N. Violino who he adored with all his heart. Vance is survived by his parents, Bobby and Kim Violino, of Hayesville, with whom he had a deep and loving bond; his beloved aunt, Raeganne Eastman, of Winter Haven, Fla., with whom he shared many a late-night text and calls about plans for the future. He is also survived by his paternal grandmother, Joan Violino, of Coral Springs, Fla., who he lovingly called grammy; his loving aunts and uncles, Linda Violino Ventura (Michael), Kathy Violino Fair (Steve) and incredibly close Violino cousins with whom he grew up and enjoyed many family traditions: Ashley Fair Brizard (Abe), Taylor Fair, Matthew Fair and Jennifer Meier (Sean).

There will be a private family service with a celebration of life for Vance at a later date.

Townson-Rose Funeral Home: www.townson-rose.com is in charge of arrangements.