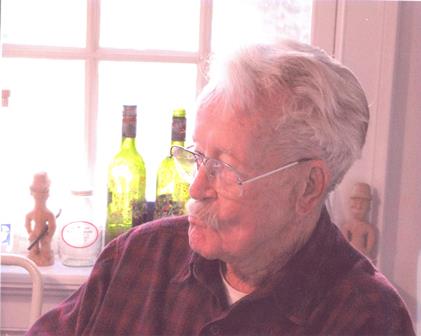 06/05/1915 - 04/04/2017
My father was the anchor in our family. He was a man of intelligence, common sense and sound judgement. In hard times, he did what needed to be done and looked for the positive. He said he wanted to be remembered as a "good man". That is what he was. George Harman McCarthy died on April 4, 2017 at the age of 101.

Judd, no one knows when or why the nickname started, was born in Erie, Pennsylvania on June 5, 1915. He married Kay Herrick in 1939, and for seventy-seven years they went through life hand-in-hand. They reared two daughters, worked hard and had fun, a lot of fun. Judd loved Kay, golf and Jameson whiskey (order of preference uncertain). He baked bread and made beautiful things out of wood. Whatever he did, he took pride in it and did it well. He had a sense of humor that came in play sometimes in keeping serious situations from getting too serious. Above all, Judd was grateful for what life gave him.

Kay died on August 13, 2016. Judd went on for seven months and twenty-two days without her. That was as far as he could go.

Judd is survived by his daughter, Lynn; two grandsons, Tim and Andy and six great-grandchildren. He was predeceased by his wife, Kay and his daughter, Karen.

A private service for the family will be held at a later date. Anyone wishing to remember Judd may make a contribution to Good Shepherd Episcopal Church-Outreach Ministry, 495 Herbert Hills Drive, Hayesville NC 28904.

Townson-Rose Funeral Home(www.townson-rose.com) is in charge of arrangements.