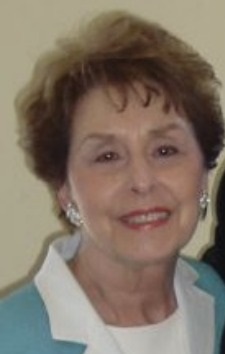 03/22/1929 - 08/04/2022
Darlene Eklund Sparks, 93, formerly of Amarillo and Wichita Falls, TX, passed away August 4, 2022 in Murphy, NC, her recent residence for six years.

Darlene was born in Earlsboro, OK, March 22,1929, one of four children born to Floyd and 'Nannie' Katherine Hubbard. As a young woman, she met Donald Eklund in Albuquerque, NM, where they courted and were married in 1945. Shortly thereafter, the couple moved to Panhandle, TX, and raised three children there. In 1972, Darlene began a 15-year career with Ethan Allan Galleries in Amarillo, TX. A gifted interior designer, Darlene loved her job, had numerous return clients and was named "top salesperson" for many years. In 1983, she lost Don, her husband of 38 years, to cancer. In 1987, Darlene married Colonel (Ret.) John S. (Connie) Sparks of Wichita Falls, TX. She continued her decorating career in Wichita Falls, transforming many homes and making new friends. Darlene and Connie enjoyed 26 happy years in Wichita Falls travelling, socializing, nurturing their blended family, and worshipping as members of First Baptist Church, where she sang in the choir. Connie passed away in 2013 and Darlene remained in Wichita Falls until 2016, when she moved to Murphy, NC, to be near her daughter and son-in-law. Darlene was an elegant, gifted woman who approached life with grace and confidence. Organized and talented, she offered her skills and resources wherever needed, making everyone comfortable with her warmth and graciousness. Darlene modeled unshakable Christian faith and values throughout her life, instilling them in her family. The impact of her unconditional love, wise counsel and strong beliefs is woven deeply into the fabric of their lives and is greatly treasured.

Darlene is predeceased by her parents, her siblings Mary Lea Wersonick, Donald Hubbard and Kenneth Hubbard. She is survived by her three children, Dr. Michael Eklund (Tracy) of Houston, TX, Donna Stone (John) of Murphy, NC, and Johnny Eklund of Houston, TX; step daughter Holley Breeding of Colorado Springs, CO, and step-son Jon Sparks (Marsha) of Fort Worth, TX; grandchildren Shawn Stone (Shelly) of Sharpsburg, GA, Kristin Harrington (Frank) of Castle Rock, CO, Jason Stone of Houston, TX, Stephen Eklund (Michelle) of Atlanta, GA, Rachel Eklund of Houston, TX, Collin (Rachel) Sparks of Branson, MO, Cameron (Melissa) Sparks of Houston, TX; Shelley Crook (Kevin), and Mark Breeding (Jenny) of Colorado Springs, CO; 17 great-grandchildren and three great-great-grandchildren; nieces Kathy Pratt of Corpus Christi, TX and Jill Tarnow Lichenburg of Chicago, IL; sister-in-law Nancy Garner, Panhandle, TX, and the extended Sparks family whom she claimed as her own.

A Celebration of Life service will be held 11:00 am Friday, August 12, 2022 at First Baptist Church, Panhandle, TX, following earlier committal at Panhandle Cemetery, Panhandle, TX.

In lieu of flowers, memorials may be made to First Baptist Church, Wichita Falls, TX, or to the Gideons.

You may send tributes to the family at www.townson-rose.com

Townson-Rose Funeral Home is in charge of all arrangements.