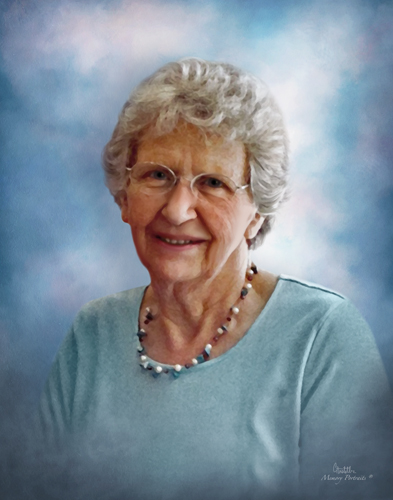 09/15/1939 - 05/05/2019
The Woody family announces Celebration of Life Services for Mildred Janie Nichols Woody, age 79 of Hayesville, NC who went to be with Jesus on Sunday, May 5, 2019 at Emory University Hospital in Atlanta, Georgia.

Born in Hiawassee, Georgia on September 15, 1939 to her late parents Lawrence McKinley Nichols and Bessie Shook Nichols, Mildred was married to her best friend and sweetheart of 63 years Walter Woody. She was a member of Downing's Creek Baptist Church in Hayesville and loved teaching God's word to the little children in Vacation Bible School. She also loved sewing, gardening and spending time with her children, grandchildren and great grandchildren. Mildred, a devoted wife and loving Mother, Grandmother and Great Grandmother committed her life to serving others. She chose the profession of Homemaker so that she could give one hundred percent of herself to her family. She was always available to provide loving care 24 hours a day and through her constant sacrifice was the perfect example of unconditional love. Even as she courageously fought through the ravages of congestive heart failure, she was always more concerned about others than herself. Her strength and courage were an inspiration to all.

Mildred is survived by her devoted husband: Walter Lee Woody, and loving sons and daughters: Preston Woody and wife Debbie; Janie Carpenter and husband Rod McDonald; Lisa Phillips and husband Dwayne; Mark Woody and wife Miranda; Walt Woody and wife Tressa; and Trent Woody and wife Alicia; adoring grandchildren: Aleesha Dunham and husband Matthew; Blake Phillips and wife Julia; Spencer Woody, Hailey Woody, Jeremy Woody, Taylor Woody and wife Caitlyn; Luke Woody, Heather Woody Nichols and husband Randy and Genesis Woody. Precious great grandchildren: Kaden and Kelsey Phillips, Weston and Quinn Dunham, Jensen Nichols, Cash and Birdie Woody, and Lake Woody. She is survived by loving brothers, Ralph Nichols, sister-in-law, Ramona Nichols, Willard Nichols, sister-in-law, Toni Nichols and was blessed to have many other nieces and nephews.

A Celebration of Life Service will be held on Wednesday, May 8th, 2019 at 1 p.m. at First Free Will Baptist Church in Hayesville, NC. Rev. Chris Rumfelt will officiate. The family will receive friends at the church from 11:00 a.m. to 1:00 p.m. A reception will follow the graveside service in the church fellowship hall. Pallbearers will be Blake Philllips, Luke Woody, Spencer Woody, Taylor Woody, Matthew Dunhan and Thomas Dixon. Honorary pallbearers will be Billy Rogers, Larry Swanson, Heather Woody Nichols, Hailey Woody and Randy Nichols.

In lieu of flowers memorials may be made to the Old Shooting Creek Baptist Church Cemetery Fund, c/o Phyllis Leslie, 10 Cheetah Lane, Hayesville, NC 28904.

Townson-Rose Funeral Home is in charge of the arrangements.