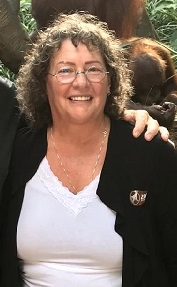 02/08/1955 - 09/14/2023
Carole Louise Fisher, age 68 of Murphy, passed away on Thursday, September 14, 2023.

Carole was born in Massapequa, New York to the late Wilton Fernandez and Marjorie Greene. She had worked in health and welfare benefits for the State of Alaska. Carole enjoyed crocheting, quilt making, cruises, snow machining, the cabin lake house and going to Little Brasstown Baptist Church. She also enjoyed living in Alaska for 35 years.

She is survived by her husband, Daniel Fisher; her son James Rutledge and wife Kim; her daughter, Samantha Carlisle; her brother Robby; her sisters, Jerri, Gail and Jill; her grandchildren, Ryan Rutledge, Samantha Rutledge, Lillian Carlisle and Jace Carlisle; and many nieces and nephews.

No services are planned at this time.

Townson-Rose Funeral Home is in charge of all arrangements.